TAEYANG & MINO Take Over Knowing Bros with Elephant Spins and Bad Acting
Originally Posted at YG LIFE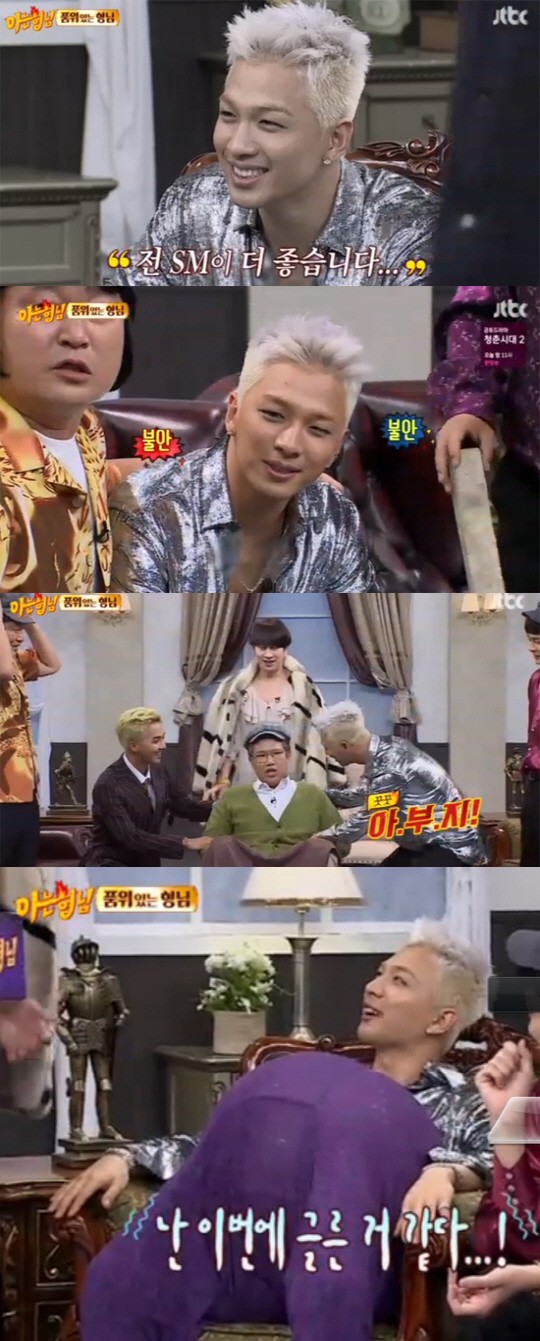 [스포츠조선=이유나 기자] TAEYANG and MINO guided the "bros" into their world of innocent variety shows. 
On the August 26th episode of JTBC's Knowing Bros, BIGBANG' TAEYANG, who has recently released a solo album for the first time in three years, and WINNER's MINO, who has become the new up and coming all-round entertainer, appeared as guests.  
TAEYANG was annoyed when the cast called him "the Kim Youngchul of BIGBANG a.k.a no fun" and started attacking Kang Hodong. 
He said, "When he was doing Strong Heart, I was really scared of him. He used to intimidate everyone." Kang Hodong protested and said, "Don't try to make up stories". TAEYANG responded, "He doesn't seem to remember. I used to go to his waiting room before the shooting began to say hello. He would ask me to show him what I can do. I couldn't because he was so scary."  
TAEYANG also talked about Park Myungsoo back in the day. He said, "When we were rookies, Park Myungsoo used to pull our baggy pants up. He truly thought that we were wearing our pants too low and he did it every time he saw us, which was embarrassing."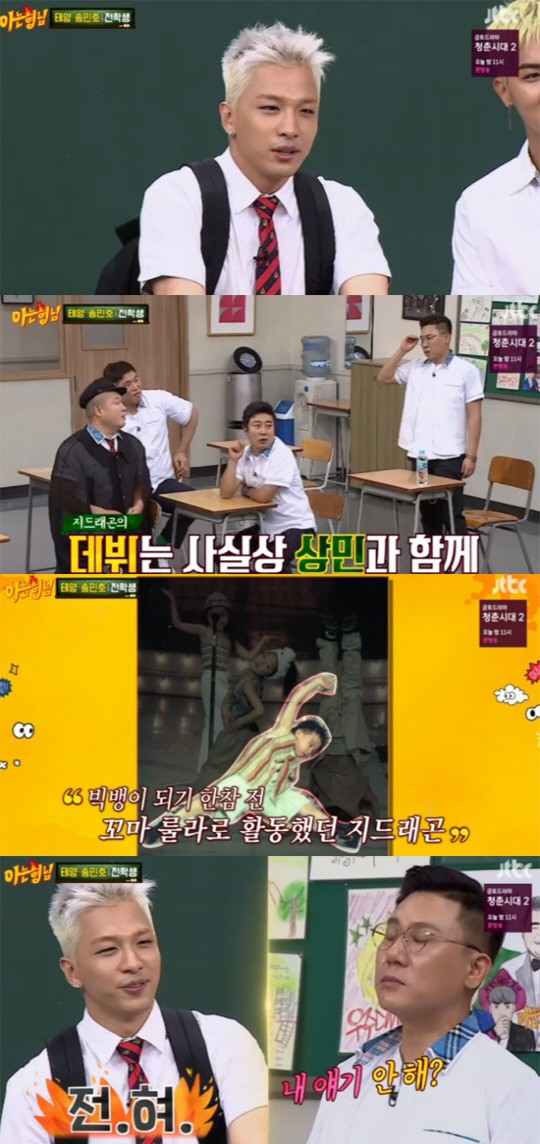 Lee Sangmin said, "I used to work with G-DRAGON when he was six years old and a member of Little Roo'ra. I used to take him out on drives when I got a new car." He asked TAEYANG if G-DRAGON talks about him, and TAEYANG answered "Never" without a moment's hesitation, which made everyone laugh. 
MINO talked about how upset he is because of Kang Hodong. He said, "I thought Kang Hodong and Lee Sookeun would be really nice to me at the waiting room because they know me well. But they only said hi to TAEYANG. They were so different when Jung Yong-hwa came on the show last time." Kang Hodong explained why he treated him that way and said, "Last time Jung Yong-hwa was on the show, I treated him like a little brother and that was maybe too much for him. So that's why I'm not like that today." MINO then talked about the many little brothers of Kang Hodong and asked him whom he likes best. Kang Hodong finally confessed, "I like Lee Seung-gi more than MINO." 
MINO is so good at doing elephant spins that he is dubbed "song finger". On the show, he competed with Min Kyonghoon, who is also known for doing elephant spins well. MINO earned the nickname when he completed his task successfully after doing ten elephant spins on tvN's New Journey To The West.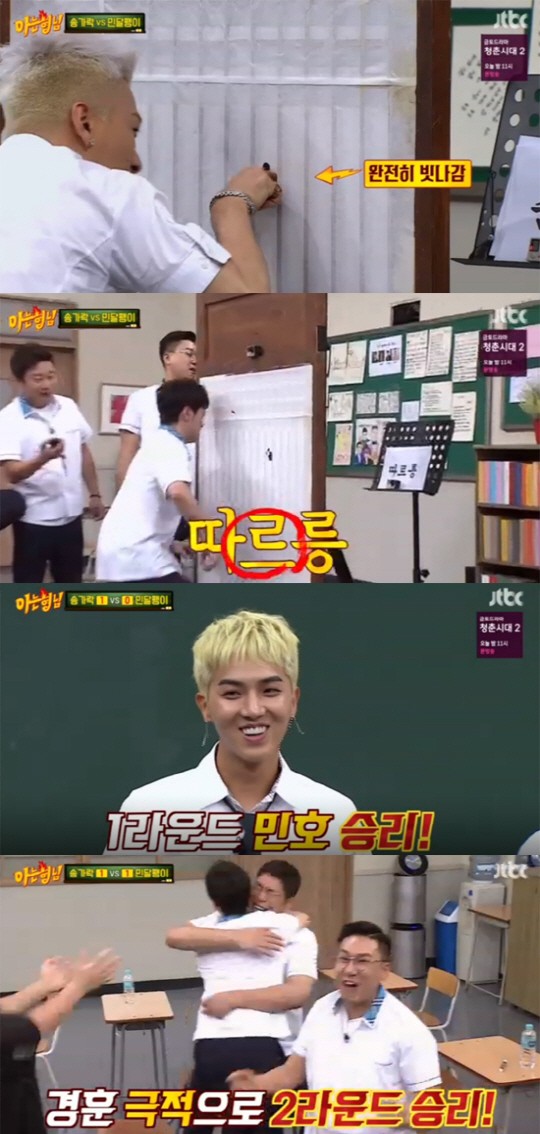 In the first round, Min Kyonghoon and MINO had to do 20 elephant spins and make a hole in the paper to see what was written underneath. Min Kyonghoon succeeded in 30 seconds and MINO in 25 seconds. In the second round, Min Kyonghoon finished 0.7 seconds quicker than MINO. In the third round, MINO won by one second and became the final winner of the game. 
TAEYANG and MINO showed off their innocent witty side by doing parodies. They parodied the drama series Woman of Dignity, and their bad acting made everyone laugh. Lee Sookeun made fun of their bad acting and said, "I thought you guys were reading a book."  
Then, TAEYANG read what was on the script said, "I like SM better". The cast did not take this as a joke and took it seriously. They said, "You should have told us" and made him sit next to Kang Hodong, who is signed onto SM. Seo Janghoon, who is close friends with YANG HYUN SUK, said, "Mr. Yang can be really sulky sometimes. Are you sure you will be ok?" which made TAEYANG have a near mental breakdown.