[Official announcement] WINNER "3rd anniversary of debut, real beginning from now… More meaningful than any other anniversary"
Originally Posted at YG LIFE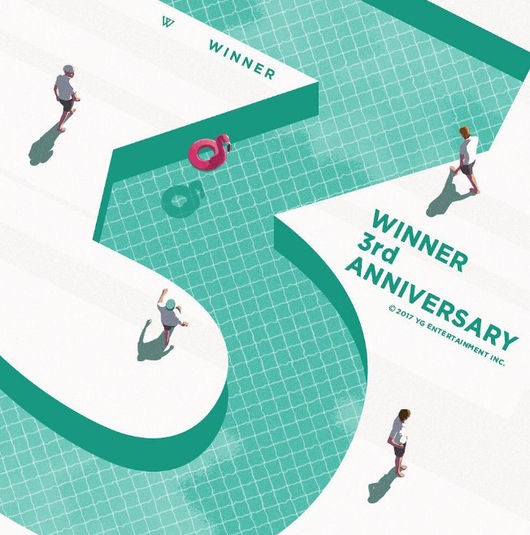 [OSEN=김은애 기자] WINNER celebrates the 3rd anniversary of their debut today.
YG Entertainment unveiled a poster that celebrates the 3rd anniversary of WINNER's debut today in the morning. YG's CEO YANG HYUN SUK posted a celebratory message for WINNER on his Instagram, which went "#Congratulations #Let's release one more new song during this year".
WINNER members expressed their special gratitude and affection to fans who have always rooted for them by saying, "We're always grateful for much love from our fans. We'll pay back with good performances. I remember every moment with our fans all the way until our 3rd anniversary".
Then, WINNER asked for continuous interest in and affection for them, saying, "The 3rd anniversary is more meaningful than any other anniversary. We've learned and grown a lot for the past three years. Please continue to be with us during the hottest period of our youth".
WINNER made an official debut after winning "WIN: Who Is Next" (WIN) survival competition in 2013. WINNER's debut drew keen attention from Korea's music scene and media from both in and out of the country. Since then, the team has achieved remarkable growth as an artist, with continuous trials for new music.
WINNER is presenting their talent not only in TV music shows but also in variety TV shows, drama series, and radio shows. Each of the members has been boasting their different and unique members.
People are showing keen interest in with what kind of music WINNER who still has many things to show even after the 3rdanniversary of debut, will surprise the music scene.
WINNER will release DVD "2017 WINNER'S SUMMER STORY" on the 29 this month. The DVD will display themselves enjoying freedom and rest during their summer vacation in Guam, as well as their deep friendship and "perfect chemistry" between the four members. The reservation for the DVD is beginning today (Aug. 17) at 10 AM and it will be released on August 29 on YG e-shop and on/off-line record shops.