[Oh!SEN Focus] "REALLY→LOVE ME→?" The present for WINNER's 3rd anniversary is "one more new song"
Originally Posted at YG LIFE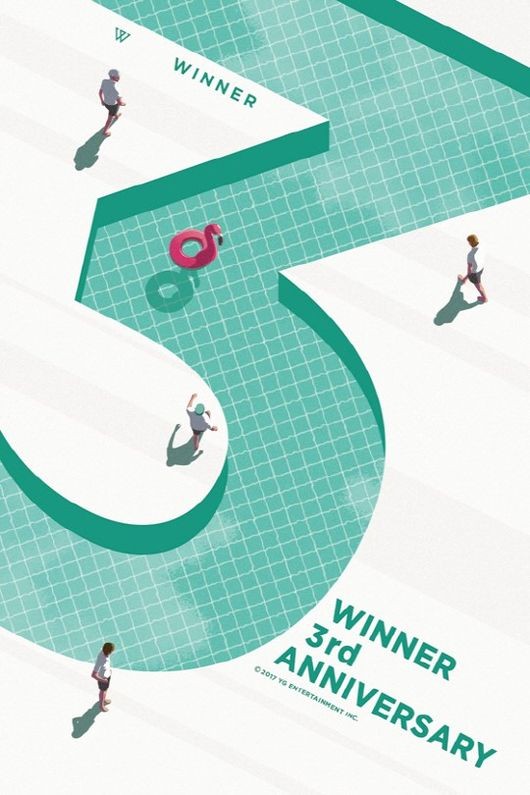 [OSEN=김은애 기자] The third anniversary of WINNER's debut is more meaningful than any other anniversary. After sweeping this spring's music scene with "REALLY REALLY", WINNER is now dominating the music scene of this summer season with new song "LOVE ME LOVE ME". As YG Entertainment's head producer YANG HYUN SUK has hinted on another new song of WINNER to be released within this year, WINNER's 2017 will shine until the end of the year.
WINNER built recognition among the public by winning "WIN: Who Is Next" survival competition in 2013. Then, WINNER made official debut with "empty" in August, 2014, to become the best rookie of the year, with their debut song "empty" that was recognized as an unprecedentedly successful debut song.
Since their debut, WINNER has continued to achieve artistic growth to finally reach the climax of their career this year. The four members of WINNER who came back with "REALLY REALLY" on April 4 this year is recording a long-run popularity all the way until now, staying in high ranks on music charts. As new song "LOVE ME LOVE ME" released on August 4 this year is also enjoying great popularity, WINNER is proving their substantial influence in the music scene. Such record is all the more remarkable, in that both of "REALLY REALLY" and "LOVE ME LOVE ME" were written by WINNER members themselves.
Individual members of WINNER have built successful career this year as well. SONG MINHO enjoyed great popularity for his sense of humor and wit fully displayed in tvN's "New Journey to the West" show. KANG SEUNGYOON took one step further in his career as an actor, being cast in producer Shin Won-ho's drama series "Wise Life in Cell". KIM JINWOO has emerged as a new promising entertainer, being cast as a regular member of MBC's variety show "Wizard of Nowhere". LEE SEUNGHOON who is known as the idea bank is working as the deputy head of YG Entertainment's planning department and the choreographer for WINNER.
As such, WINNER has reached the golden days of their career, in line with the third anniversary of their debut. WINNER expressed their happiness in celebration of their third anniversary by saying, "We're always grateful for much love from you. We'll work hard to pay back to you. We remember every moment with our fans all the way until our third anniversary. This anniversary is more meaningful than any other anniversary. We've learned and grown a lot for the past three years. We're now making a new beginning in earnest. We want to be with our fans for every moment from now on. Please be with us and shine with us during the hottest period of WINNER's youth".
The third anniversary of WINNER's debut would be very special for YG's CEO YANG HYUN SUK who has spared no support for WINNER so far. YANG also sent a congratulatory message for WINNER on his Instagram, "Congratulations. Let's have another new song during this year".
WINNER is spending a successful year of 2017 with "REALLY REALLY", "LOVE ME LOVE ME", and now with another new song to be released within this year. That is like the best gift for WINNER's fans who have always been with WINNER for the past three years. Music fans are already waiting for the new song of WINNER who has built a new genre called "WINNER music" with quality songs. People expect that WINNER's new song will sweep music charts by the end of this year.