With Four Days to Go until Comeback, WINNER Reveals a Picture Showing Off its Boyish Charms
Originally Posted at YG LIFE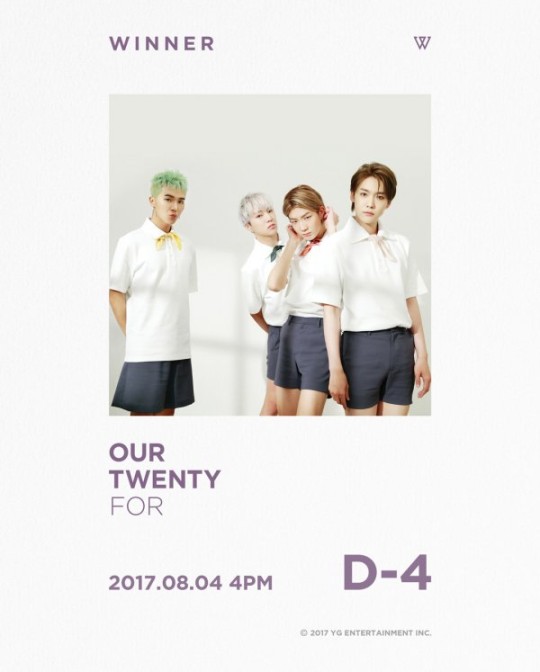 [동아닷컴=홍세영 기자] WINNER's comeback is drawing near, and a picture featuring all its members is revealed.
In the afternoon of July 21, YG Entertainment uploaded a picture of WINNER on its official blog to mark the group's comeback, which is to take place in four days. The picture features WINNER members looking fresh in clean-cut white t-shirts and shorts.
On August 4, WINNER is to release its new EP containing "LOVE ME LOVE ME" and "ISLAND" as title tracks.
"LOVE ME LOVE ME" is a disco song with a catchy hook that well portrays WINNER's sophisticated musical tone. "ISLAND" is a dance hall and tropical genre song with unique lyrics about an island.
WINNER members participated in writing the music and lyrics of both songs, enabling the fans to see their upgraded musical style.
After making a comeback in April with "REALLY REALLY", WINNER has been actively promoting the song by appearing on music shows and radio and variety programs. Currently, MINO and JINU are regular cast members of New Journey to the West 4 and The Wizard of Ozi, respectively, and both of them have gained great popularity. Therefore, expectations are running higher than ever for WINNER's new EP.
An YG official said, "The EP is all about the youth of the twenties. It will be a chance to see WINNER's fresh young color and identity."
The pre-order of WINNER's new EP will start at 5 PM on July 31. The EP will come out in two versions, FOR YOUTH and FOR DREAM, which have different booklet images. It will be sold from August 7 on YG E-shop and other online and offline record shops.
Main Source: Sport DongA